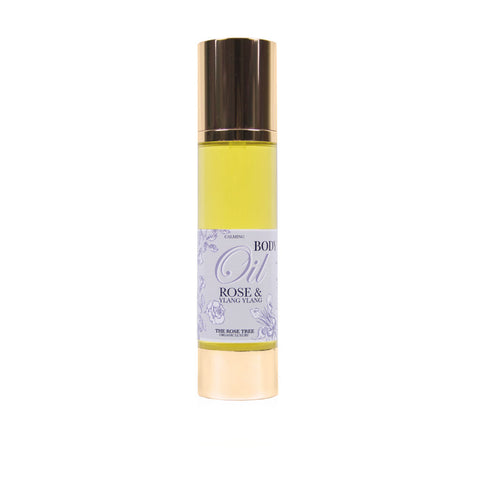 Calming Body Oil with Rose & Ylang Ylang
$63.00
A luxuriously scented, light yet nourishing dry body oil which leaves skin subtly scented and silky soft, made with 92% organic ingredients.
"Finally, I've found my favourite body oil! After the first application, my skin already feels smoother, firmer, healthier and hydrated."  Kate
KEY BENEFITS:
Luxurious and indulgent, my calming aromatherapy blend calms the mind and relaxes the body

Provides a quickly absorbed, anti-ageing boost to skin.

Leaves skin feeling super hydrated
Will not block your pores

An all round super luxury oil

The best body moisturiser with aromatherapy essential oils
Olga says:
 My nourishing Body Oil  with 
decadent roses, geranium, ylang ylang.  

 An all round super luxury dry oil to soothe, and pamper and banish dry skin!
INCLUDES:
Organic Apricot, Jojoba, Safflower and Argan Oils are blended with floral and citrus essential oils.
Apricot Oil, Rose Damascena oil, Calendula Flower Extract, Ylang Ylang Flower Oil, Patchouli, Rose Geranium Flower Oil and Safflower Oil. Beautiful plant oils, powerful botanicals and flower oils, restorative wellbeing in a bottle.  
I use quickly absorbing "dry" oils in our formulation that hydrate your skin but won't make your clothes oily!
Made with 92% organic ingredients.  Vegan friendly.  Gluten free. 100ml. Packaged in an airless pump bottle.
DIRECTIONS
Take one pump of oil to start with, warming the oil gently in your hands before applying to your skin in an upward direction.  Breathe in the scent of the pure essential oils, and repeat as necessary.

We only use the highest quality pure organic plant oils and all essential oils are used within safe limits, at low percentages.


However if you are pregnant or nursing you should ALWAYS check with your doctor before using any products containing essential oils and completely avoid using them during the first few months.


For external use only. Keep out of reach of children.


IF IN EYES: Rinse cautiously with water for several minutes. Remove contact lenses, if present and easy to do. Continue rinsing. If eye irritation persists, seek medical advice/attention.
INGREDIENTS
Apricot Oil (Organic)
Gentle and penetrating, apricot oil from the kernal of the apricot fruit is a light oil suitable for all skin types including sensitive skin.
Argan Oil (Organic)

Our pure, cold pressed Argan Oil is rich in inflammation busting Essential Fatty Acids and has anti-ageing and skin improving properties; being suitable for both dry and oily, skin types.  It is sebum regulating and can help with acne prone skin.
Calendula Flower Extract

Calendula is one of those British herbs that has been throughout history as a remedy for all sorts of skin aliments, and is believed to have restorative and regenerative powers on the skin.  Particularly good for sensitive skin.
Geranium Oil
A rosy, sweet smelling balancing oil, suitable for all skin types. Geranium creates a sense of security and comfort, having uplifting and refreshing qualities.
Jojoba Oil (Organic)
An easily absorbed, light oil, very similar to the sebum found in our own skin, and so suitable for all skin types, including problem, oily and combination skins.
Palmarosa Oil (Organic)
An uplifting oil, with a delectable sweet floral scent.  Excellent in skincare, it balances sebum production and hydration and has cellular regenerative properties so is effective on skin with blemishes. 


Patchouli (Organic) 
A rich heady oil with legendary skin benefiting properties.  Used for centuries in the East, where it is purported to be an aphrodisiac, it is a key ingredient in high end spicy perfumes. It has anti-fungal and antiseptic properties and is also detoxifying and circulation boosting while being used to improve skin condition.
Rose Flower Oil
The queen of oils, extracted from the freshly picked flowers, our most loved rose oil calms and has an instant uplifting effect.
Safflower Oil (Organic)
A beautifully  light textured oil  which has  nourishing and smoothing properties.  It will not block the pores on your skin and so is suitable for all skin types, even sensitive skin.
Sunflower Oil
Antioxidant rich sunflower seed oil is packed full of beta carotene which is thought to help with the signs of ageing. It is also helpful for inflamed, sensitive and acne prone skin.
Vitamin E
A classic antioxidant, vitamin E is derived from many fruit and vegetables and is known to protect against cell damaging free radicals and with the appearance of stretch marks, lines and wrinkles.
Ylang Ylang (Organic) 

An intensively sweet, exotic scent, the name Ylang Ylang means 'flower of flowers'.  The bright yellow flowers are hand picked early in the day before the sun destroys its delicate blooms.  Ylang Ylang has aphrodisiac properties and is often use to lift the spirits in times of stress.