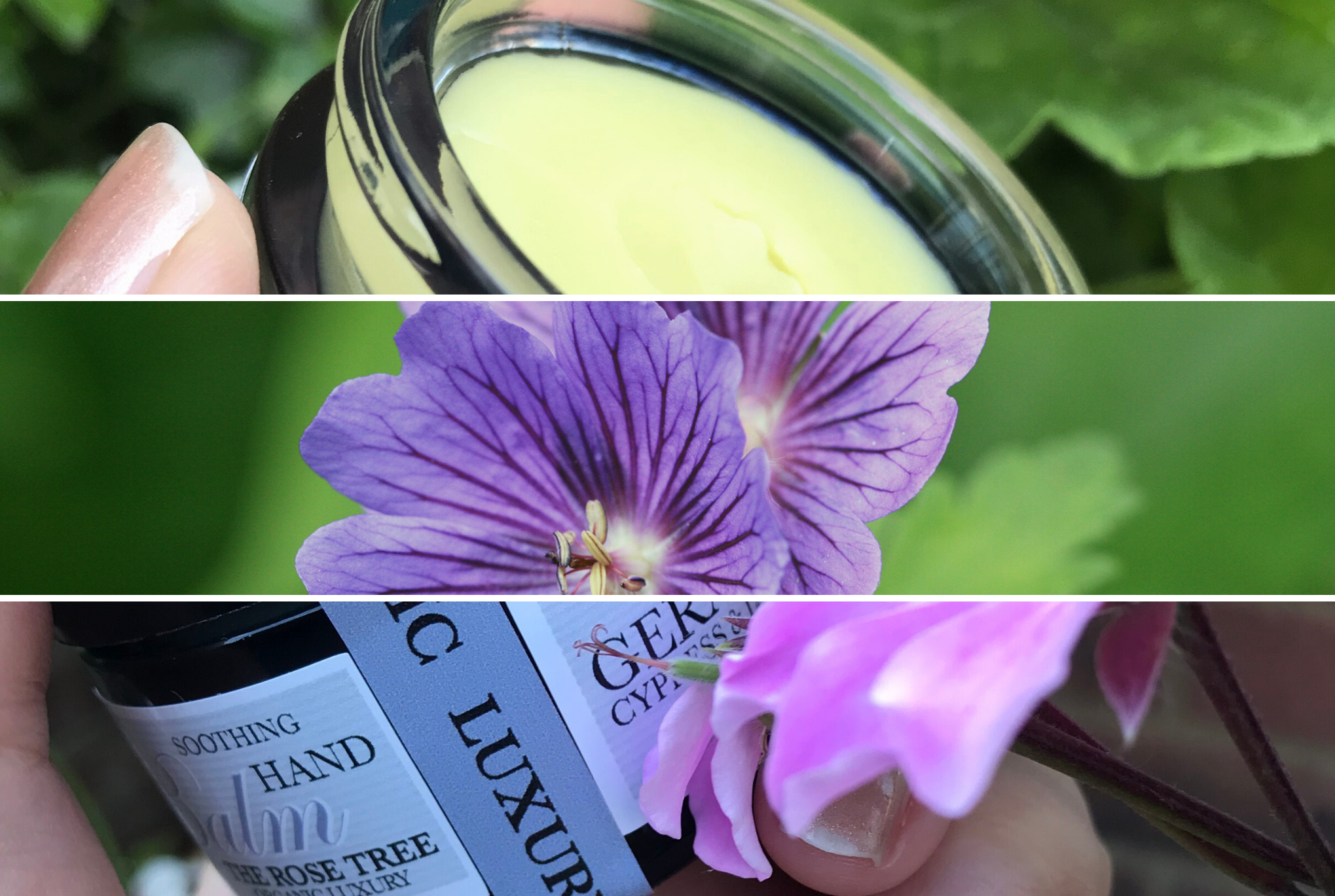 Younger Looking Hands Naturally
Extreme dryness, age spots, cracking skin, and brittle, flaking nails; our poor hands take a lot.
Extreme Dryness, Age Spots, Cracked Skin...
Often over looked but super hard working, hands are one of the first places that give us away as we get older. 
So you'd be forgiven for thinking that when caring for your hands, we'd have our pick of the big hitters, the value add ingredients that are going to counteract all the stuff that we throw at them on a daily basis.
But no, take a look at the ingredients in many of those cute bottles of hand cream and you discover they've become the poor woman's skincare.
A Concoction of Cheap, Sticky, Synthetic Ingredients?
A blend of water with paraffin derived ingredients and a concoction of cheap, sticky synthetic ingredients - but with some great looking packaging.  'Cause that makes all the difference obviously! 
Let's skimp on the ingredients, but use some cute flower-strewn tube and sprinkle a few natural inspired terms across the front.
 I have to admit I don't get it.   It seems crazy - because hands are where we need the power lifting botanicals, the big boys, just as much as the skin on our face.
 Not a whisper of magic ingredient X added at 0.1% so it can be called out on the label, but without being present in sufficient quantities to make any real difference whatsoever…
The Difference A Hand Balm Makes
This is where a hand balm comes in.
Packed with the good stuff.  When a normal hand cream just won't do.
Less Dehydration, Stronger Nails, Younger Looking Hands
That means less dehydration, stronger nails, younger looking hands and a built in mood boost in a 100% natural and 90% organic formula.
The flip side is that you've got to know how to use a balm on your hands.  This is not the time to spread it on Nutella-like inches thick.  A balm by its very nature is going to be richer than a lotion. 
My top tips?
Less is more - super concentrated and rich, you need the tiniest amount of Hand Balm to treat the skin on your hands.  You can always add a tiny bit more if you find your hands drink up all that natural moisture.


Pay special attention to your nails and cuticles, especially any sore bits.


For some serious overnight magic, apply a slightly thicker layer of balm and grab a pair of cotton gloves.  You'll wake up with hands that Snow White would be proud of.
I've handpicked the ingredients for these skin plumping and nurturing balms, and it's all the good stuff:
Coconut Oil - Dry Hands Saviour
Deeply moisturising with occlusive and emollient qualities, coconut oil has traditionally been used as a moisturiser in the South Seas for centuries.
 It is hydrating and a safe solution for preventing dryness and flaking skin, and is also beneficial for sensitive skins and those with tricky skin.  It's a Dry Hands saviour.
Avocado Oil - The Skin Appearance Improver
Gentle, hydrating and rich in vitamins A, B1, B2, D, E, pantothenic acid and fatty acids, avocado oil is often used as an anti-aging oil due to its high levels of pantothenic acid and is particular suited to lack lustre skins, sensitive skins and dry skins.  Great for softening cuticles and conditioning nails.
Rosehip Oil - Natural Vitamin A Skin Booster
Renowned for its skin conditioning and regenerating properties, my cold pressed rose fruit oil contains large quantities of vitamin E and also retinol or vitamin A which helps to explain its regenerating properties.  It's known to help dry, damaged, scarred skin, stretch marks and pigmentation.
 Not hidden away at the bottom of my ingredients list, I like to include my value add ingredients in quantities large enough to make a difference.  (What a radical idea I know!) A facial skincare staple, I believe that your hands deserve the best ingredients too.
Shea Butter - The Sore & Chapped Skin Rescuer
Shea butter, also known as karite butter, comes from the nut of the African Mangifolia tree.  Shea butter has superb moisturising qualities, along side healing properties and is used in products for dermatitis, psoriasis, and many other skin conditions.  Additionally, due to its vitamin and fatty acid content, it is used in moisturising products to help reduce lines, wrinkles and stretch marks.  
Marula Oil  - the Antioxidant protector
Used for centuries in its native South Africa and Swaziland, marula oil is used by local women to hydrate and protect their skin with its high antioxidant and fatty acid levels.  It's also used to protect against stretch marks, reduce skin redness and soften scar tissue.  The oil is extracted from the fruit of the marula tree which contains the nut. 
 All Natural Fragrance
Now let's deal with the scent.
 None of the cheap, syrupy rubbish that sounds so appealing on the label but contains nothing but sweet, artificial, headache inducing synthetics.
 Pink peppercorn and berries?  I am the only one that wonders what's actually in these?
The Real Stuff - Essential Oils in Skincare 
I'm all about the real stuff, and only use essential oils.
 Essential oils  are Mother Nature's little gift, powerfully aromatic and concentrated, they are the aromatic essences produced directly from aromatic plant material, which includes flowers, twigs, leaves, peel, bark and seeds.
 I use them because not only do they have the most glorious scent, but additionally because studies have proven their effectiveness for treating many skin types and conditions.
 And did I mention that nothing smells better than the real thing.
 I also figure that if you're anything like me, multi tasking, running around like a complete mad woman, you see the sense in benefitting from a double whammy.  While all those glorious botanicals are doing their stuff, imagine whispers of therapeutic loveliness being absorbed through you olfactory system to calm and de-stress…
 And although I'm mighty proud of these little hand treats, don't take my word for it, the Soothing Hand Balm took the gold medal at this year's Green Parent Beauty Awards, and the De-Stress Hand Balm was a winner in the Beauty Shortlist Awards.
That just means the most difficult decision is which to pick - Soothing with Geranium, Cypress & Lavender or De-stress with Geranium, Juniper and Patchouli :)